Meet Our Team
Sonja Bayle, Office Manager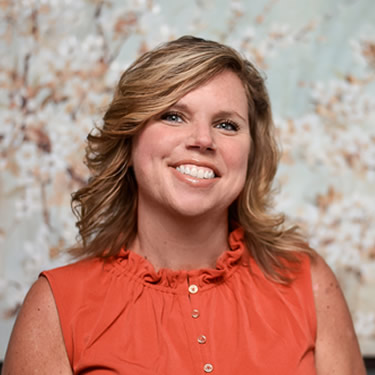 Sonja works tirelessly to keep the entire practice on track and running smoothly-We are very lucky to have her as a member of our team! Sonja loves the ability to help others in any way that she can. She enjoys learning new things, setting goals, and achieving those goals-which have helped her over the course of her 30+ year career in the medical field. Sonja enjoys being a part of a practice that's full of team players, and especially likes working with doctors who practice nonsurgical approaches with natural care remedies. Sonja is always eager to offer wonderful suggestions and ideas to help the practice grow. "I love working with our compassionate doctors who care about their patients and employees. The atmosphere is professional but fun!" – Sonja Outside of the practice, she enjoy spending time outdoors. Boating, gardening, camping, traveling and floating in the pool are just a few ways she is able to enjoy this. She also enjoys a good book and watching her children play sports. She's is happily married and a mother of four boys, as well as two Yorkie fur babies. Some of her best days are spent with her family making lifelong memories.
---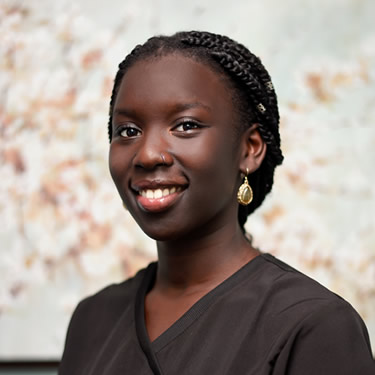 Kevina Oduho, Chiropractic Assistant
Kevina brings a steady, calm peace to the office and our friendly, family-oriented atmosphere-this makes going to work worthwhile for all of us! "Neck & Back Center of Erie is a warm, family-oriented environment, which makes going to work easy and worthwhile." Kevina loves her role with us, and looks forward to genuinely helping people who need it most. Hoping to one day become a chiropractor, she knew from day one that this was the best position for her in an incredible practice. When she isn't working, Kevina is usually studying for school or spending time with her friends and family. She has a very big, hard-working family. She credits them with instilling wonderful lessons and values in her that she holds near and dear to her heart.
---
Joan Lewis, Front Desk Supervisor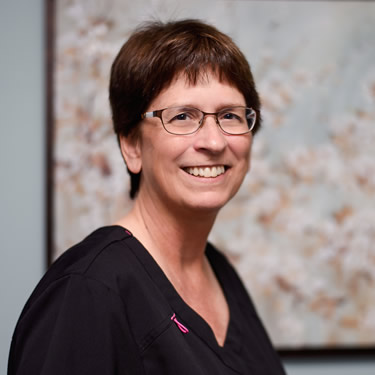 Joan is the "steady presence" in our practice, having worked with us for over a decade. Every morning, she has coffee ready for the patients and the entire practice. Joan welcomes everyone with a smile. As she puts it, "I like seeing people feeling better. The end results after their treatment plans are amazing!" Joan enjoys helping patients have a stress-free experience at our practice. She provides them with quick and efficient customer service, helping with varying insurance questions, explaining their benefits and assisting them with claims. Joan believes she found Neck & Back Center of Erie by divine intervention. She was seeking care from our office after unsuccessful treatment with her primary care physician. She found success from chiropractic care, and when a position opened up, she was able to fill it. Joan also enjoys gardening and living every single day to the fullest. She and her husband attend a lot of family functions and visit their son in Virginia when they're able. Joan is the second oldest of 9 children, and her husband is the oldest of 5! They keep busy, as you can imagine!
---
Michele Clark, Insurance Specialist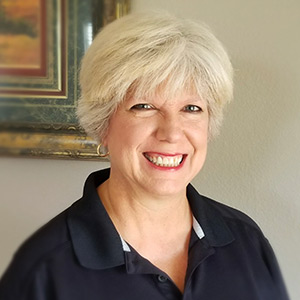 When you visit our practice, you may not see Michele, but rest assured, she's a valuable part of our team! Michele works remotely from her home in Texas and began working with us in 2013. When she started, she was living in Erie, but moved a couple of years ago. She provides such a wonderful service to patients that we just couldn't lose her! When Michele interviewed with us, she felt so comfortable and immediately knew it would be an amazing fit. "I've enjoyed working for Dr. Bannister and Dr. Coursen, both of whom are such kind and caring chiropractors. They are both passionate about helping their patients and the entire community live drug-free, pain-free lives with chiropractic care!" Michele is passionate about keeping her family away from pharmaceuticals, and working in the chiropractic field helps her maintain the best and most recent information on natural healthcare. Michele is deeply fascinated with crystals and stones, and she loves to research natural remedies for "anything and everything!" Outside of the practice, Michele enjoys spending time with her family, going to the Peninsula, grabbing wings at the local Fiddle Inn, riding her bicycle, paddle boarding and spending as much time outdoors as possible. She has three adult children-Craig, Emily and Amelia. She also has three 'fur kids'-toy Poodles who are more spoiled than any of her actual children were! Though Michele enjoys visiting Erie a few times a year, she makes sure to stay away when it snows!
---
Connie Cramer, Chiropractic Assistant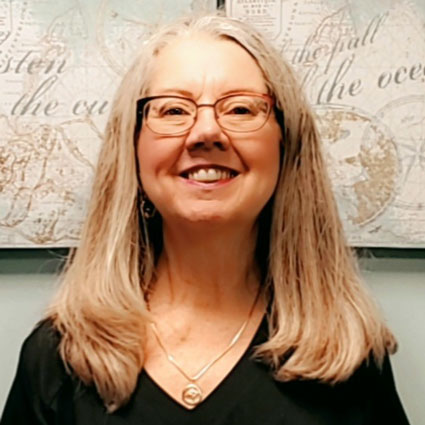 Connie brings to the Neck and Back Center of Erie team over a decade of experience working as a physical therapy assistant. Connie is very knowledgeable when it comes to patient care and working one on one to provide quality treatment. She assists the doctors with the patients individualized treatment plans. When Connie saw that a position was available which would enable to return to her roots of working one on one with patients again, Connie was excited and applied to our clinic. Probably her favorite part about working at the Neck and Back Center is the camaraderie of working with the doctors and fellow staff members. When she is not in the clinic, she enjoys spending time with her family, especially at her grandson's basketball games and time with her nieces. She is also passionate about cooking. Connie's mother and father were very supportive of local businesses and also of local products. Connie has 2 daughters, 3 grandsons and one of her 2 daughters lives in Switzerland. We are so pleased to have Connie on our team!
---
Stacy Callison, Insurance Coordinator/Front Desk Reception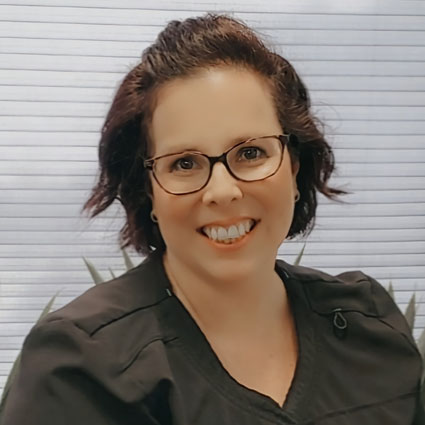 Stacy joined the Neck and Back Center of Erie team summer of 2021. When we first met Stacy, we loved her smile and amazing personality and instantly knew that she would be perfect as front desk receptionist. Stacy has a background in banking and loves learning new things and staying busy, so she now also works as our insurance treatment plan coordinator as she is very good with organizational skills and quick too! Stacy knew that from her very first conversation with our Neck and Back Center office manager, Sonja, that she was going to work with us, given the opportunity! A perk with Stacy is that she is passionate about baking cookies which are not only delicious but very artistic also! Check out our Facebook page for some of her creations! She uses decorating and baking her cooking as a stress reliever. Stacy also loves spending time with her 4 kids, Madison, Jacob, Kaitylyn and Hailee. She also has a granddaughter who makes being "Mimi" the best feeling in the world! Stacy has been happily married to her husband for almost 10 years. We are blessed to have Stacy on our team!
---
Mary Bukowski, Front Desk Reception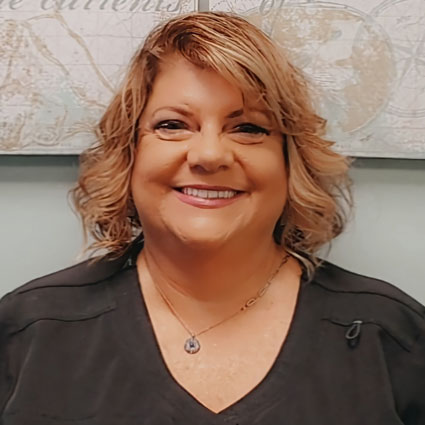 Mary comes from a background of over 30 years in dentistry working as both front desk and office manager. Mary is excited to start a new chapter in chiropractic with our team after working so long in dentistry. Her skills in the medical field are a great asset to the Neck and Back Center team! Mary is one of the main front desk coordinators on our team and our patients love her spunk. Mary says about working at our clinic, "the staff and doctors are like family. They treat you like one of their own." When not at work, Mary enjoys relaxing in the pool during summers here in Erie which explains her great tan! She also enjoys the challengers of crossword puzzles. She loves spending time with her family and has been married to her husband since 1998 and has 2 amazing sons, Cody and Ray. And we can't forget Mary's full spirited dog, her Shih-Tzu, Moe, which she refers to as little mamas boy! The entire staff loves Mary's spirit!
---
Susan McGuire, Chiropractic Assistant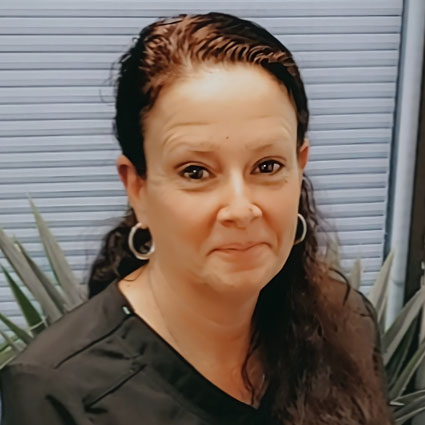 Susan was looking for a change in career and life when she moved to Erie in 2021 from New Castle. Even though Susan did not have a background in health care, we were all pleasantly surprised at how fast Susan learns! She is one of the best chiropractic assistants that we have hired in over 20 years. She is quiet but don't let that fool you, she has a great sense of humor so we all love working with her. Susan is very caring with the patients when working one on one with them helping the doctors with their treatment plans. Our patients enjoy conversation with Susan and her caring way during their time at the clinic. Susan has a son who is an EMT and a daughter who is a consultant. Her significant other is an Erie Native and he has 7 children of his own which keep them busy. Susan enjoys photography, glass collecting, hiking and walking the Erie beaches when not at work. We are all thankful for Susan's good work ethic as part of the Neck & Back Center of Erie team!
---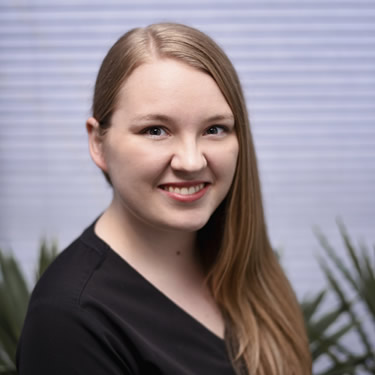 Morgan Blanco, IT Support Specialist
Morgan has been working with Neck & Back Center of Erie since 2018, and we couldn't be happier to have her as a part of our team. She's known for her infectious laugh and smile! She currently works per-diem for us helping with computer and IT systems. She misses seeing the patients. As she puts it, "I've made some fun friends and they always brightened my day when I saw them. It is fun coming in and sometimes surprising the patients when I am there." Outside of the practice, Morgan enjoys spending time with her friends and traveling to Texas to see her family. She's very close with her mom, who is "her person" and also enjoys close relationships with her brother and sister. She recently got married in April 2021 and is enjoying life with her husband, Tyler!
---

Neck & Back Center of Erie | (814) 864-2225