About Us
Pain Relief Is Just a Phone Call Away
Since 1998, we've always made pain relief and pain elimination the focus of our chiropractic care center. Neck & Back Center of Erie is passionate about working with patients of every age, and particularly with those suffering from physical injury, acute or chronic pain, or mothers-to-be hoping to experience an optimal pregnancy.
Our Mission: A Community of Pain-free Living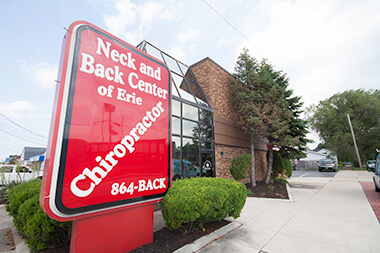 We take a musculoskeletal approach in our practice, knowing that spinal biomechanics and the many intricacies of that specialized strategy involve many moving parts, including:
Disc herniation and rupture
Inflammation of tendons following repetitive use
Muscular adhesions that result following untreated injury
Reduction in joint mobility that is the natural result of misalignment
Weakening of compromised ligaments after injury
Vertebral misalignment as the result of even mild trauma
Physical Therapy Modalities
Both Drs. Bannister and Coursen are well-trained in the delivery of physical therapy modalities that will help to reduce your initial pain, including cryotherapy, heat, electrical muscle stimulation, intersegmental traction and ultrasound. These modalities are accompanied by precise research-based chiropractic techniques that will pave the way to a pain-free, healthier you.
Our Practice is Different
Here are some of the ways that we stand out in the Erie community:
Our combined skill levels are exceptional. Our adjustments are precise and specific, and our care is so gentle that our patients feel confident in often claiming us as their primary doctor.
We're a referral-based practice. There's no greater compliment than to know you have the trust and appreciation of many satisfied patients.
We have a reputation for accepting patients that other doctors have dismissed. We welcome complicated cases and are often able to uncover undetected causative factors in situations that were previously labelled as "difficult."
Our practice is based on the accumulated knowledge of a husband-and-wife team. When you partner with us, no matter which one of us you choose as your doctor, you're receiving our combined experience and expertise.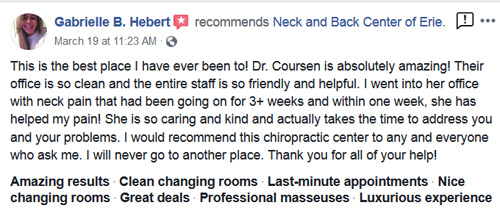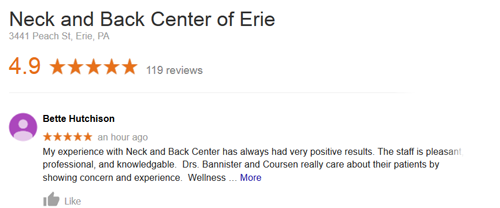 Our practice is accommodating and convenient. We'd love to welcome you as a new patient. We accept most insurance, and offer same-day appointments and Saturday hours. Contact us today, you can count on our help!

About Neck & Back Center of Erie | (814) 864-2225